Hair Coloring Services in New York, NY
AR Hair Salon offers a range of professional services that we customize to fit your hair, your appearance goals, and your time. Our goal is to provide you with hair that is manageable and beautiful all at once.
Come to our New York, NY, hair salon today to see how we can help you.
Take Advantage of Our Hair Salon Services
One of the things we take pride in is our range of services. We want you to be able to trust us with whatever you need. Some of our services include:
Cutting: You can choose between a shampoo-and-cut bundle or a cut-and-blow-dry bundle. We know how to cut and style any hair type and hair color, and we serve a range of client ages. Whether you want a simple trim or a high-glamour design, our stylists can help.
Shampoo and blow-dry: If you don't need a haircut but you still want to feel pampered, you can come in for our shampoo and blow-dry service. We carefully wash and style your hair so that you can either start off the day right or unwind after a stressful afternoon.
Coloring: Revamp your look with the addition of color. AR Hair Salon uses only the highest quality materials to provide you with beautiful and bold colors, and our stylists are trained to make sure the color is exactly what you want.
Chemical treatments: We offer treatments such as chemical straightening, thermal reconditioning, keratin treatment, and perms to help you enjoy the type of hair you've always wanted.
Intensive treatments: Our deep conditioning treatments boost the health of your hair and scalp. Contact our team to learn more.
We also offer bridal hair services if you want beautiful hair for your big day. So come into AR Hair Salon for our professional and varied services. You'll leave here loving every inch of your hair.
Trust Our Team
Our stylists are highly trained and experienced, and we stay up-to-date with the latest fashion trends and techniques. With our years of experience, we know you'll love your results. 
There is no need to make an appointment if you want to come in and talk about your hair. We will discuss what you want to achieve, taking your life style and natural features (such as your face and skin tone) into consideration and we will create a look for you that is suitable and manageable. Above all, we want you to be delighted with the look and feel of your hair, not just right after you have left our salon, but all the time. We strive for hair that you can maintain from day to day, so that you will always look your best!
At our salons we see a wide range of age groups and hair types, different people with different lifestyles and varying needs. Over the years we have picked up on, and mastered a wide range of cutting techniques based on the "European School of Hair Design." The cuts we do vary from children's haircuts all the way through to the high-glamour cutting edge styles of the catwalk!
Many of our clients come into our salons once or twice a week simply to feel pampered and have our experts' hands tend to their hair. They could come in and have their hair shampooed, blow dried, brushed and styled. This is a fantastic way to rewind from the hectic busy life outside of our salon. No matter what, we are sure you will leave looking and feeling your best!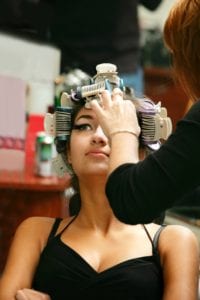 Taking part in a wedding, a school formal or an evening event and need to look your absolute best? Call us! We also will be delighted to help you and your bridal party to look stunning on your wedding day (bridal hair).
PRICE UPON REQUEST
Color has the ability to add depth, texture and tone to your hair to compliment your cut. With color it is possible to totally reinvent your look! At our salons we only work with high end, top quality hair products from Europe as well as from America.
Permanent Color (Ammonia or ammonia free)
Hi Lights and Low Lights, for that sun kissed, "just back from the beach look" all the way to a bolder, stronger and more dramatic look. The possibilities are endless!
Straightening
Do you have curly, frizzy and unmanageable hair? Would you like to know and feel what it's like to have straight hair without having to go get blowouts all the time? Well now you can! By using the latest chemical straightening techniques we can transform your curly frizzy fly away hair into manageable, shiny and lustrous hair that is silky and straight. You have the option between two different straightening techniques.
• Chemical Straightening
• Thermal Reconditioning
• Keratin treatment (smoothing system)
PRICE UPON REQUEST
PERMS
Today's perming techniques can add volume, soft waves, curls and can give you a style that is easy to maintain and that will fit your lifestyle. Modern techniques and our high end products make it possible to reshape your hair without making it curly, fizzy or causing damage.
• Permanent Wave
• Body Wave
PRICE UPON REQUEST
We offer a wide range of deep conditioning treatments to preserve the health and beauty of your hair and scalp. Please come in and have our expert decide what treatment will benefit your hair most. Treatments generally last from 15 minutes up to one hour.
Products we use are:
NIGELL DS 3+(4 STEP TREATMENT)
OLAPLEX (3 STEP TREATMENT)
MOROCCAN OIL
SERIEEXPERT POWERMIX
CREDE ER HAIR TREATMENT
SHAMPOO AND INTENSIVE TREATMENT
Our objective was, and still is, to provide top quality, up-to-date hairdressing
Our objective was, and still is, to provide top quality, up-to-date hairdressing. Our stylists are trained to a high degree and are able to quickly adapt to the ever changing fashion world. Our continuous training is to ensure that we can maintain our high level of excellent service to the satisfaction to all of our clients.
If there is any way we can make your visit more pleasurable, please do not hesitate to ask.